Ventanas
Posted at March 25, 2016
|
By : admin
|
Categories :
|
Comments Off

on Ventanas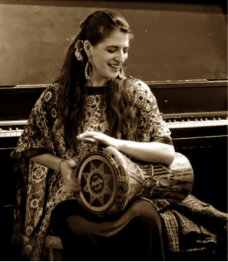 Join Gandharva Loka on another beautiful evening with the amazing Ventanas from Toronto.
Led by singer & flamenco dancer Tamar Ilana, the trans-Mediterranean ensemble Ventanas fuse passion and intimate dialogue, embracing the varied instrumental and melodic traditions of North Africa, the Balkans, Turkey and Spain to create fresh interpretations and original songs. Oud, baglama, darbuka, and percussive flamenco footwork intertwine with surprising harmony, joy and yearning, and this unusual musical mix garnered the group two Canadian Folk Music Award nominations in 2014 for their recent album "Allumbre".
for more info on Ventanas please visit the website below:
http://ventanasmusic.com/
– Net Loft Cafe, Granville Island
– Tickets are $20 in advance or $25 at the door.
– Limited space so please get your ticket ASAP.
To order tickets or for more information please call Gandharva Loka Vancouver at 604-683-7733 or visit the store on Granville Island!
Feel Free to bring your yoga mat/cushion to be more comfortable.
To book tickets, please call us at +1 604 683 7733