Vocal Toning Workshop Series with Sanya Radovic!
When:
September 1, 2016 @ 8:30 pm – 9:45 pm
2016-09-01T20:30:00-07:00
2016-09-01T21:45:00-07:00
Where:
Netloft Cafe
1666 Johnston St
Vancouver, BC V6H 3R5
Canada

Cost:
$70 for all/$20 per class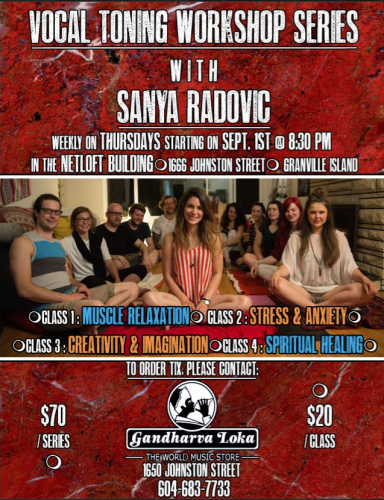 Please join us for a special series of 4 workshops on Vocal Toning, hosted by Sanya Radovic!
Every Thursday at 8:30 PM starting on September 1st
– Thursday, Sept. 1st: Muscle Relaxation –
– Thursday, Sept. 8th: Stress & Anxiety –
– Thursday, Sept. 15th: Creativity & Imagination –
– Thursday, Sept. 22nd: Spiritual Healing –
$70 for the entire series // $20 per class
To order tickets, please contact Gandharva Loka World Music
by phone: 604-683-7733
or come visit us: 1650 Johnston Street, Granville Island
———-
About the Classes:
– Workshop 1: Vocal Toning for De-tensioning & Relaxation –
In our daily grind we encouter many situations that build up tension in our bodies, and consequently, our minds. The first workshop in the Vocal Toning Series combines the physical benefits of stretching and singing into one. We loosen and relax the joints and break up that icky tension that we carry around all day long while preparing our vocal cords to produce sound. We harvest the energy released as we channel it through our voices back to our minds, treating our bodies and spirits to a synergetic relaxation journey.
Bring a water bottle, a mat and get into some comfy clothes for this one. And most importantly, get excited to hear, heal, and relax yourself and others!
[Start with body, end with mind,
And that perfect note you will find.]
– Workshop 2: Vocal Toning Against Stress & Anxiety –
Once we experience the physical benefits of relaxation and singing, we use vocal toning as a tool to re-train our thoughts to take on and fend off stress and anxiety. These two modern-day disturbances are based in the mind, so we take a vocal road trip into our inner world to find individual causes and solutions to what is making us feel overwhelmed, irritable, or short-fused. The second workshop in the Vocal Toning Series aims to help us rediscover love, peace, and joy within ourselves.
[See your worries, solve your trouble
Safe inside a sound-proof bubble.]
– Workshop 3: Firing up Imagination & Creativity Through Vocal Toning –
The human mind is one of immense creative potential. Have you found a key to unlock yours? While keys do have a tendency to get misplaced, we can find them On That Note through our own sound! You are invited to play, explore, and contribute to an energetic and creative space that we build together with our positive frequencies. The third workshop in the Vocal Toning Series gives you a glimpse into your own imagination and just what is possible when you let it flow freely with others.
[Let it sound and let it flow
And the wonder show will grow.]
– Workshop 4: Vocal Toning & Spiritual Healing –
Singing is an essential part of many spiritual ceremonies, and with good reason – what's a better tool to use than our own voice to speak to the higher values and ideas, to understand our purpose and place, to communicate to the powerful oneness? We establish an inner silence and stillness, tune into the beat of love and vibration and connect to ourselves and others. The final workshop in the Vocal Toning Series is a truly special journey that takes place when we allow our souls to be heard and released.
[Sing down low and sing up high,
Connect the dots, then vibe and fly.]
———-
Sanya's Bio:
Sanya Radovic is a dedicated music teacher, performer and explorer of the human mind.
Her musical journey began at age 6, in the Balkans, in the midst of a challenging political and social environment. Practising piano, playing in orchestras, and singing made her see that there exists a world of vibration, harmony, and peace within all of us – and that it is possible to enter it through sound. She quickly realized the power of music and its ability to transform the inner and outer environment of both its subjects and objects, even in the most difficult of times.
After moving to Australia in 2004, she completed her ANZCA Performance Diploma in piano, theory, and harmony before graduating from high school. Her musical practice continued and began explanding towards healing while she studied Media, Communications, and Science in Brisbane and Melbourne.
However, it wasn't until her move to the vibrant community of Vancouver that she felt the necessity to widen the reach of her own sound healing to include others. Her practice began to transform from individual to group, and through music research, preparation and assistance from health care professionals, she designed unique sound healing sessions thats aim to make you feel taken care of, safe, and connected.
Sanya believes in the power of our own bodies to heal themselves through sound. There are many wonderful instruments through which music can make itself known; but we tend to forget the one we carry around with us constantly – our own voice! Sanya is on a journey to help you find confidence in your voice and realize its potential. You don't have to be a professional singer to harvest the energy, change, and healing that your own body can create in a very magical way.
———-
♥ Peace and Love ♥